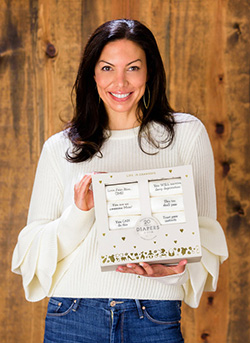 I am Natalie Schneider, the creator of Coobella Inspired Diapers. The birth of my two beautiful children, Cooper and Isabel, were miraculous, yet life changing events! In those moments while changing diapers during the first few weeks … A bit sleep deprived and slightly overwhelmed… A little idea named "Coobella" was born.
Coobella Inspired Diapers are each printed with a heart-warming, encouraging and funny message for Mom during changing time.  I am certain that Coobella will bring a smile to every Mom's face as we all Celebrate Motherhood!
Save
Save
Save
Save
Save
Save
Save
Save
Save
Save
Save
Save
Save
Save
Save
Save
Save
Save
Save
Save
Save
Save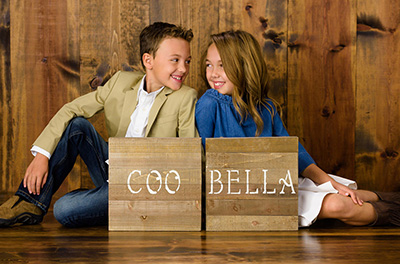 Each Coobella gift box comes with a set of 20 customized, (8-15 lbs), speciality diapers. Uniquely packaged in a deluxe gift box, Coobella premium inspired diapers is the perfect baby shower gift!
Coobella diapers are printed with all natural, soy-based ink and are made from extra soft and silky bamboo fiber material. These premium diapers are all natural, biodegradable, fragrance and chlorine free.
Now Available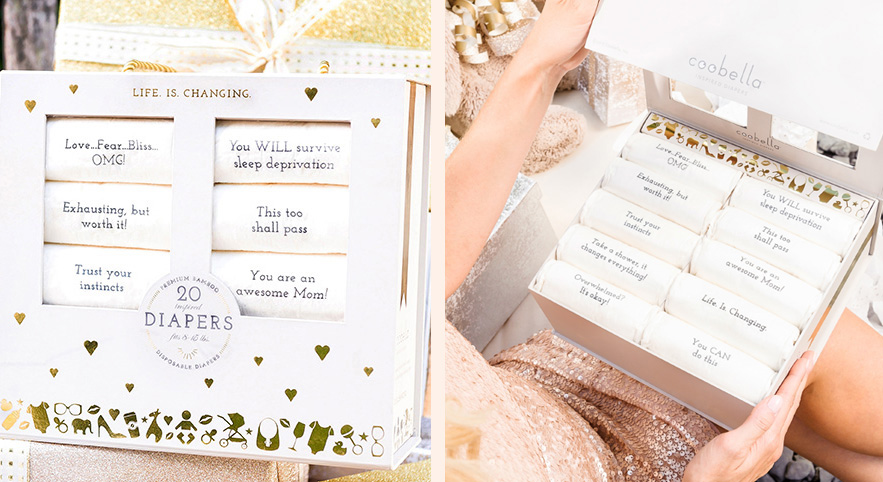 Coobella was the perfect gift for my best friend!  Since I haven't had a baby myself, I loved that I could give her something I knew she needed with the diapers, but the messages reflected our friendship. I knew she would think of me and feel supported each time she read a message.
Coobella is awesome!!  I needed a gift for a dear friend and was so excited to find a gift I knew not everyone would bring to the shower.  Not to mention, I didn't have to wrap a thing, as it comes so beautifully packaged!
Coobella was a hit at my friend's baby shower and the only gift everyone wanted to pass around.  With those awesome messages, it definitely left a lasting impression in more ways than one!